Terminal, A Killing Frost Authors in Town
By Dan Pearson, Contributor
Originally published by the Pioneer Press Group, October 10, 2007
---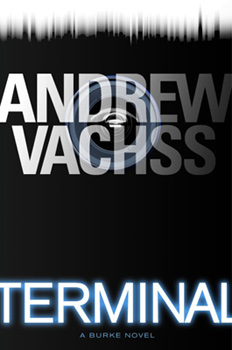 Fans of crime fiction who are looking for more than just a mystery to solve are invited to meet accomplished authors and good friends Andrew Vachss and Michael A. Black as they discuss their latest releases Friday night at Centuries & Sleuths Bookstore in Forest Park.
Vachss is a dedicated New York born attorney who has successfully hand-crafted an intense, fictional hard-boiled universe to get across his very serious and very real agenda of social reform in the areas of child abuse, sexual predators and youthful offenders.
His resume includes being former federal investigator into sexually transmitted diseases, a social services caseworker and a director of a maximum-security prison for youthful offenders.
"Chicago is where I received my training as an investigator for the U.S. public health service. I have a long, long history with the town and frankly if I could stand the damn winters, I would live there," he said.
Vachss has found a popular forum for his social concerns since the 1985 publication of Flood, the first book to chronicle the underworld exploits of a fascinating ex-con known simply as Burke.
Terminal is his 17th book in the Burke series. It chronicles a complex plan to seek retribution and reap financial gain from a trio of now wealthy men said to be responsible for the rape-murder of a teenage girl some 30 years in the past.
"Burke is really much angrier in this book than he has been. He has worked so hard to be cold and the edges are starting to fray a little bit," said Vachss. "All the characters in my books age and as they age they know more about themselves and about the world."
To those that think that crime novels shouldn't contain social and political commentary, Vachss has this to say.
"For people who have said Terminal, is an anti-Bush rant, they are not reading very carefully. If it is any kind of rant, it's against those people who vote for American Idol and wouldn't think of missing that, but couldn't be bothered to vote in an election. It is for those people who have made themselves recipients, not participants in this country."
Terminal also explores such volatile issues as stem-cell research, dog-fighting, prison survival etiquette and the need for virtual zoos.
"I don't believe anyone has the right, never mind the power, to tell me what the rules are for writing crime novels. They can set all the rules they want for membership in their own little club, I don't want to be a member," Vachss said.
Double homicide
On this leg of his national promotional tour, Vachss will be joined by Michael A. Black of Blue Island, who has spent nearly 30 years as a police officer in Matteson.
"I like the idea of writers actually supporting each other for a change instead of kissing each other's behinds for blurbs or stabbing other people in the back," said Vachss. "I have never seen writers as a band of brothers. But anyone who writes, who I am tight with, I think it is nice to do things together."
Vachss supplies the cover blurb for A Killing Frost, the acclaimed 2002 debut novel by Black which is being re-reprinted this month in paperback by Dorchester Publishing. He credits Black with breathing new life into the classic American P. I. genre.
Living the story "Andrew is the kind of person who does stuff in real life that the rest of us only write about," said Black. "Through his work protecting children and his writing, it is just an honor to know him and I can't count the ways in which he has influenced me. I consider him my brother. "
Black is the author of eight books, including three in the Ron Shade series which follows a former Chicago police officer turned private investigator and professional kickboxer after an incident with his S.W.A.T. team went very wrong.
The author is a former military policeman who served in Vietnam and South Korea who holds a black belt in Tae Kwon Do and a masters in fiction writing from Columbia College.
Black credits former L.A. policeman-turned-author Joseph Wambaugh with providing him with inspiration for both his careers.
Fifteen years of rejection slips didn't deter Black from pursuing his childhood dream of being a writer. He would take classes in writing during his off-hours including a seminar at Northwestern University taught by veteran mystery writer Stuart Kaminsky where one of his fellow students was Sara Paretsky, the author of the V.I. Warshawksi mystery series.
Some time later Black encountered Paretsky at a social function where she expressed the desire to learn how to shoot.
"I took her to a range and showed her the fundamentals of handgun use," said Black who said Paretsky returned the favor by critiquing his work.
Dead Ringer, a fourth Shade novel co-written with Julie Hyzy, will be published next fall but Random Victim, the start of a new police procedural series set in Chicago featuring a male and female detective team, debuts in the spring.
Black also has written three standalone novels: The Heist, about a pair of Desert Storm vets ripping off the Outfit during the Chicago River flood of 1992; Melody of Vengeance, a loving tribute to the pulp hero Doc Savage; and Freeze Me Tender, a Las Vegas thriller about an investigation into a cryogenically frozen Elvis-like character.
"I try to keep some humor in the books as well as some serious things. I didn't want to get pigeon-holed with one character, I wanted to branch out," said Black.
© Copyright 2007 Digital Chicago, Inc.