Dogs of The Zero
Sheba

© 1989 New York Newsday / Richard Lee
Sheba, from the pages of Sex Crimes by Alice Vachss.


Sheba on patrol, waiting for a squirrel to make a mistake.

Sheba, being a wolf.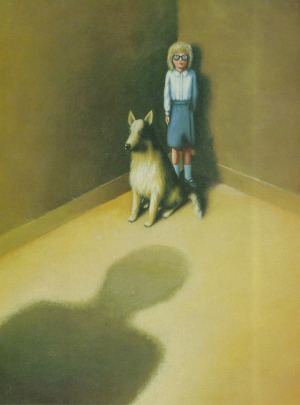 an illustration of Sheba from "California Lawyer"
A Prosecutor's Best Friend
Retired Guide Dog Tips Scales of Blind Justice Toward Victims
by Wendy Lin
Originally published in Newsday , November 12, 1989
---
Sheba has a way with troubled victims of crime. Abused children are drawn to her. Elderly people are calmer and more relaxed with her. Grieving family members are comforted by her.
Sheba is part of the staff of the Special Victims Bureau of the Queens district attorney's office. Sheba is also a German shepherd.
"Sheba often makes the difference between a child talking and not talking," said Alice Vachss, chief of the bureau, which deals with elderly crime victims and the victims of domestic violence, sexual abuse and child abuse.
"There are some children who won't talk to us without the dog next to them," she said.
"We found that the dog had a calming influence on children, especially abused children," said Queens District Attorney John J. Santucci.
"The dog is there for the benefit of the special victims," he said.
Sheba's relationship with the office began two years ago, when a blind volunteer was working in the playroom of the Special Victims Bureau. After the volunteer quit, the children didn't ask about her as much as they asked about her guide dog. "It turned out that the kids loved the Seeing Eye Dog," Vachss said.
Sheba was adopted from the Seeing Eye Institute in Morristown, N.J., after she turned 10 years old and was forced to "retire."
She was an instant hit, said Vachss, who first realized Sheba's potential as a prosecutorial tool during an investigation into the sexual abuse of a 4-year-old child. The girl's case came to light as the result of a child abuse hot-line call. Police investigated, the child was examined, and medical evidence showed that she had been molested.
The only other proof prosecutors needed was the testimony of the girl, who refused to talk about the incident.
"She was upset and anxious," Vachss said. "But she saw the dog and started petting the dog. Finally she said she would talk to us about it, but only if the dog was in the room."
The molester pleaded guilty and is now in prison, Vachss said.
The dog also has been useful in consoling the elderly and the families of murder victims, Vachss said.
"Anyone who is very sad seems to be very comforted by the dog," she said.
Studies have shown that the act of petting animals actally lowers blood pressure in humans.
Sue Sternberg, coordinator of pet-assisted therapy for the American Society for the Prevention of Cruelty to Animals, said animals have been used in therapy with the elderly, the terminally ill, the mentally retarded, and austistic children, among other groups.
"A dog is an instant, trusting friend," Sternberg said. "People see them as listeners who won't tell anyone else. Dogs are very forgiving, accepting animals who give love and receive love in a very non-verbal way."
Children who find it difficult to tell their own stories often find it easier to "speak through the dog," Sternberg said. "Children will say things like, 'Oh, the dog looks very sad.' Or, 'This dog is afraid.'"
Sheba goes home at night with Vachss, who has two other dogs at home. Her training as a Seeing Eye Dog makes her a good choice for the work because Seeing Eye Dogs are required to pass rigorous training and personality tests to ensure that they are disciplined and stable.
Sheba is unflappable. She is accustomed to being stepped on and bumped into. Now, she's a permanent fixture in the office. Said Vachss, "There are kids, the minute they arrive here they ask for Sheba."
© 1989 Newsday, Inc. All rights reserved.
---
Read a story about two other dogs who follow in Sheba's proud tradition.
The program that Sheba initiated is being reflected in Washington state, Maryland, California, Virginia and
New York, the last of which has made the practice of using witness-comforting dogs a courtroom standard.
And, now, Sheba's legacy goes international! See latest from Canada.
The legacy continues, as assistance animals now allowed in court to accompany vulnerable victims of all ages:
http://www.nytimes.com/2015/06/10/nyregion/therapy-dog-helps-woman-testify-at-assailants-sentencing-hearing.html

---
Search The Zero || Site Map || Technical Help || Linkage || Contact The Zero || Main Page
The Zero © 1996 - Andrew Vachss. All rights reserved.
How to Cite Articles and Other Material from The Zero
The URL for this page is: