True Blues
Doc Pomus
It was a big joint for a blues bar, but not enough seating capacity for the high-dollar acts. Still, Chicago's a blues town and sometimes you get lucky—Virgil said he caught Buddy Guy and Junior Wells there once and they weren't even on the bill....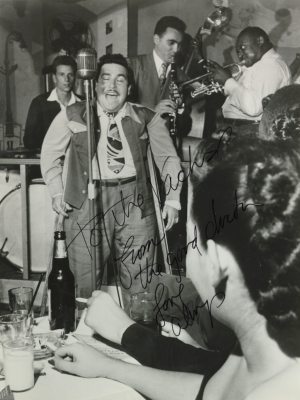 The waitress was just clearing the table when they started to set up on the little stage. I watched the musicians, wondering what this was going to be. A strange collection. Tall man with a gospel singer's face was hooking up an electric fiddle, like Sugarcane Harris used to play. Steel guitar, Virgil at his piano, drums. A rail-thin black man who looked old enough to be a runaway slave kid wearing dark glasses to the far side, a cartridge belt of harmonicas around his waist. It took the front man a while to make it to the microphone. He had a chest big enough to play solitaire on, a head the size of a basketball, thick long hair swept back from his forehead in crashing waves. He was standing on metal crutches, the kind that angle about halfway up. A massive upper body on useless legs.
They never announced the name of the band. The electric-fiddle player cranked up a low floating scream. The drummer laid down a hard sharp track underneath as the harp player barked his way in, waiting for the piano man to travel along the high keys. They chesty guy on crutches took them through a gambler's version of "Mary Lou." Like the way Ronnie Hawkins used to do it, but with the harp man doing the backup voices. He gave us "Suzy Q" and a nasty twist on "Change in the Weather." I couldn't put any name to it but the blues. Virgil's piano was a magic thing—sweet water flowing over crystal rocks, breaking and falling, spooling out a ribbon of purity across the bottom, climbing again. He and the fiddle player laid down a carpet up on the neck, counterpointing the harp, bending unreal notes between them like playing jump-rope with metallic strands. The steel guitar cried to itself.
Rebecca's voice: "My Virgil can play, can't he?"
Blossom: "You couldn't get closer to the Lord in church."
Then the band went into its own stuff. Telling the truth. Nightclub women and working girls, cocaine and do-without pain. Hell's hounds, jailhouse-bound. Dice players and pimps. Cheating wives and gun-fights. Don't mind dying. Hard times and hard people.
The baby spot hit the players as they each took a solo, the singer saying each man's name for the crowd as they played.
They finished the last number. The slide guitar worked the bass notes, with only Virgil's piano helping him along. The man on crutches talked to us.
"Men, you ever have a good woman? I mean a gooood woman, the kind of woman ... who'll stand up when she has to and stand by while you do time? You know what I mean. A woman who can give that good love, that real love? Answer me if I'm telling the truth?"
They answered him. Tapped their whiskey glasses together, yelled "That's right!" up at the stage, groaned their encouragement.
"And you threw her away, didn't you? You let her go. You gave up a used Cadillac for a new Ford, you know what I'm saying?"
They knew.
"You ever want just one more chance? Well, listen to me now." The electric fiddle worked under the harp this time, the chubby kid welding the notes into new shapes. The man on crutches came through the music like a fist punching through a door, his cobalt voice nailing the crowd.
I've done you wrong
So many times
Treated you cruel
Played with your mind
I know you're leaving
And I'll miss your loving touch
But won't you listen just one more time?

Woman, don't you owe me that much?
I drank and I gambled
But you always let me come home
Yes, I drank and I gambled
But you always let me come home
You always forgave me
Till you heard that little girl on the phone
A woman in the crowd screamed something up at the stage. The singer bowed in her direction and went back to work.
I lost my job, even went to jail
And you always stayed by my side
When I lost my job, and I went to jail
You always stood up, right by my side
But you saw me with that other woman
You swore your love had died

First you said you'd kill her
And then you changed your mind
Yeah, you said you'd take her young life
But then you changed your mind
You threw my clothes in the street
And told me to stay with my own kind
He hit us with verse after verse, telling his story. Telling the truth. When he got to the end of the road, he had us with him.
I need you for my woman
I need you for my wife
You know I need you, woman
Lord knows I need my wife
But if you won't send an answer
I guess I don't need my life
He finished the set with a razor-wire version of "She's Nineteen Years Old." In case there were any tourists in the audience.
The crowd wouldn't let him off the stage. A woman in an electric-blue dress stood up, holding a beer glass in one hand, shouted something at him I couldn't hear.
The bandleader's voice came back at her through the mike. "Maybe I can't run the hundred-yard dash, darlin', but I'm still a sixty-minute man."
He owned the crowd. "One more," he said. And meant it. The drummer switched to brushes. Virgil intro'ed off the bass keys. A piano doesn't have special notes inside it like a guitar, but Virgil played them special. The slide guitar stayed low with him.
"God Bless the Child."
The band held the fort as the singer slowly moved himself off the stage. Then it went dark.
—excerpted from chapter 74 of Blossom by Andrew Vachss
© 1990 Andrew Vachss. All rights reserved.
---
Doc Pomus: Rock and Roll Hall of Fame
Doc Pomus: Songwriters Hall of Fame